Where are they now?
In the coming months, Roger Sleeman will be conducting a series of interviews with great players of the past.
The first one is Grant Lee.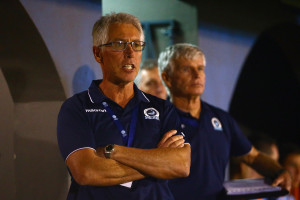 LEICHHARDT, AUSTRALIA – MAY 06: Match action during the PlayStation® 4 National Premier Leagues NSW Men's Round 9 match between Sydney FC and Sutherland Sharks at Lambert Park on May 6, 2017 in Leichhardt, Australia. @PlayStationAustralia #PS4NPLNSW (Photo by Jeremy Ng/FAME Photography for Football NSW)
A  True Survivor
Grant Lee, the current Sutherland coach, has been involved in senior football as an elite player and coach since 1980.
He first rose to prominence as a member of the magnificent World Youth squad of 1981 who defeated the world champions, Argentina, in October of that year  and subsequently completed a distinguished career as a player until 1994, after serving seven seasons with Sydney City and eight with Sydney Olympic in the NSL.
Since departing from professional playing ranks, Lee has forged a remarkable coaching career but now faces his biggest challenge in leading Sutherland, arguably the sleeping giant of Australian football, back to the top of the NSW NPL.
In this interview with Roger Sleeman, Lee talks about his early progress to senior playing ranks,  his football experience at glamour club, Sydney City, his coaching career , his opinion of Australian football development and  the state of the national team.
ROGER SLEEMAN
Where did it all begin?
GRANT LEE
I played my junior football with Lane Cove United and was fortunate to receive great encouragement from my late father, Frank, who coached the club in State League and also played first grade in the late 1950's. He was in fact the first defender to mark Leo Baumgartner when he first arrived in Australia to play for Sydney Prague.
After playing in U/14'S  and u16's  at youth league level, I was selected  in the state u/16's and played with future stars like Peter Raskopoulos, David Skeen and Paul Kay who all were in the 1981 World Youth squad.
In 1978 as a sixteen year old, I was selected in the Kuringai State League first team squad by Mick Jones and played with legends of the game like ex  Socceroo, Bobby Hogg and that amazing ex St George striker, Jimmy Herron.
R.S.
At this young age, you had an opportunity to go to Everton but you knocked it back.
What was the story behind this?
G.L.
Billy Bingham, the former Northern Ireland great and Everton coach at the time, came to Kuringai to run coaching courses and he liked what he saw in me.
Bingham asked me to come back to Everton but he told my parents not to expect me back for fifteen years.
Naturally my parents didn't react too well to this comment and advised me not to go.
R.S.
Was this a decision you regretted?
G.L.
In hindsight maybe, but I didn't know any Australians other than Craig Johnston who were playing in England at the time so it was an unknown.
Unfortunately, I also didn't know John Kosmina at the time when he plied his trade at Arsenal in 1978/79 but he was twenty two and more mature than me.
Ironically, I was returning from Adelaide after an NSL match with Sydney City and I spoke to Kossie who didn't enjoy his experience. Yet, that may have been because the legendary Frank Stapelton stood in the way of Kosmina playing regular first team football as a central striker at Arsenal.
It made me realise how much Craig Johnston achieved after his initial dressing down by Jackie Charlton.
R.S
When did you know you were ready to make it at the highest level?
G.L.
Frankly, I never really thought about it because it was just like a journey and I was enjoying it all.
However, my outlook changed when I started playing 1st grade at Kuringai with those great players and was selected in the Australian Schoolboys team  with players of the calibre of Rob Wheatley, Oscar Crino, Steve Blair, Howard Tredinnick and Charlie Yankos.
When I played in that team in a curtain raiser to the Australia v New York Cosmos in 1979 at the Sydney Showground, in front of a huge crowd which they estimated at 77,000, I knew finally my time had arrived.
I was privileged that night to pose in a photo with Carlos Alberto, the former Brazilian World Cup winning and Cosmos captain, and we also trained with the Cosmos squad prior to the game.
Fortunately, in that same year, Carl Hovelaar, a friend of my father, saw me playing at Kuringai and asked what I was doing there and said I should be playing NSL football.
He suggested I go to Sydney City and introduced me to Eddie Thomson.
They had top youth coaches in Dennis Hoggart (ex Leeds United) and Geoff Harcombe. (Ex Everton)  I trained with them and they signed me to a youth contract.
Subsequently, I was selected for the first team squad and made my debut in the 1980 season.
R.S.
Could you recall your memories at Sydney City?
G.L.
Hoggart and Harcombe were highly professional coaches who I learned so much from and Leo Baumgartner continued their work when he took over from them.
Leo was simply fantastic.
The atmosphere at the club was phenomenal with so many Socceroos who were physcologically aggressive and driven, and the honours the club achieved bore testimony to their total professionalism.
I always argued with Kosmina but he was an outstanding role model and the complete footballer. Joe Watson was the master dribbler who beat opponents with ease, my captain Murray Barnes was an inspiration on and off the park, Ian Souness had a shot like a bullet, John Stevenson was a great one two touch player, Alex Robertson was one of the best one on one defender I've ever seen, Kevin Mullen was an incredible overlapping fullback and Steve OÇonnor was like a Rock of Gibraltar at the back.
Early in my career at the club, I also had the benefit of the expertise of the Brazilians, Agenor Muniz, Hilton Silva, Nelio Borges and Marcos Silva.
I sincerely feel for the young players of today who don't have the exposure to such wonderful influences.
R.S.
What was your reaction to Sydney City being pulled out of the NSL in early April, 1987, after only one game had been played?
G.L.
It was tragic for people like Watson and Barnes who were nearing the end of their careers and would find it hard to play at other clubs.
However, when Frank Lowy was denied the chairman's job at the ASF the previous year, and with the return of the NSL from Northern and Southern divisions to a national competition, he obviously believed it was the best time to cause the least pain  possible to the League.
The reaction of the long-time supporters was certainly not consistent with this viewpoint and the action resulted in many of them leaving the game behind for all time.
The best team was now out on the free market, apart from Frank Farina who had moved to Marconi and Kosmina to Sydney Olympic, the season before.
Co-incidentally, Eddie Thomson took over the coaching reins at Olympic soon after, which would suggest he knew about the demise of Sydney City before it happened.
Les Scheinflug approached me to come to Blacktown and I stayed for one year before returning to Olympic the following year.
R.S.
What was your relationship with Eddie Thomson like?
G.L.
Frankly it was luke warm a lot of the time but in fairness to Eddie when I was in the national team and Wally Savor suffered a serious injury, he offered me a chance to play regularly at right back.
However, I was more interested in playing an attacking role in midfield or out wide so Eddie dropped me from the national squad. Nevertheless, I still continued to play under him for ten years in total.
On reflection, I perhaps should've heeded the call and might have played many more times for Australia.
R.S.
You had an excellent grounding when you commenced your coaching career at Football NSW with the NSW  u/15's and u/16's from 1994-1997 but you also had a stint at the AIS under Steve O'Connor from 1998-2001.
Can you relate your experiences?
G.L.
Undoubtedly, my time at the AIS when I assisted Steve O'Çonnor who I rate as the best coach I ever worked with ,was a great boost to my coaching career.
I was involved with the development of  players like Michael Turnbull, Ljubo Milosevic, Luke Wilkshire, Wayne Schroj, Jade North, Josh Kennedy and Lucas Pantelis who all had successful careers.
R.S.
What do you think of the current national team and particularly the recent performance against Thailand?
G.L.
The current Socceroo squad is a second or third tier team at best and the quality just isn't there.Compared to the great players of the past who were big players in big teams, only Aaron Mooy, Mat Ryan and Matthew Leckie are playing at the highest level and incredibly the best Australian player in the 2-0 loss to Japan, Massimo Luongo, didn't even get one minute against Thailand.
Ironically, Timmy Cahill at nearly 38 years of age is still the impact player in the squad.
You can say the team was unlucky hitting the upright three times against Thailand but the truth is,  these attempts at goal should have been put away easily with other chances so we wouldn't be involved in the upcoming qualifying matches.
R.S.
Is the development system the main problem and are the comments of Robbie Slater and Mark Bosnich justified?
G.L.
The development system is poor, no worthwhile players are coming through and this is the reason Ange Postecoglou has problems. Also, this is why he has terminated his position after next year's World Cup.
There  was a continual production line of great players when the AIS was operating and the establishment of the Centres of Excellence is a negative because you may have access to more players but quantity doesn't ensure quality and the players are only involved part time.
At the AIS, the players had access to state of the art facilities and resources on almost a full time basis.
Unfortunately, Slater and Bosnich are far too late with their criticism because coaches like me have seen the problems multiply in the last ten years.
Then again they have their jobs to protect.
R.S.
You survived a remarkable five years at Sydney Olympic before taking up the Sutherland job this season. How do you compare the two clubs and how do you see the future of Sutherland?
G.L.
Olympic are your typical ethnic supported club with a wonderful tradition and management with a great passion for the game who always attract people to finance the club.
However, they're the perennial gypsies who since the early 1960's have never been able to call any place home.
Sutherland on the other hand, as one of the largest football districts in the country, has a great structure, administration and facilities which would be a great asset if an A-League club is accepted into the area.
There is a lot of talent at the club which was reinforced by the great grand final win of the u/20 side and with John O'Shea, former Socceroo, who is our technical director, I am  working very hard towards next season to achieve the highest possible result for the club.