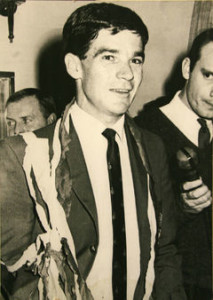 The dairy farming village of Jamberoo, on the New South Wales south coast, will be buzzing to the sound of 'football' tonight and tomorrow as almost 800 players honour Australian football icon, the late Johnny Warren. Jamberoo was Johnny's home-town for ten years.
The seven-a-side tournament, organised by the Johnny Warren Football Foundation and the local football community, continues to grow with seventy-eight teams registered in five divisions', two ladies and three men's.
Johnny's nephew and Tournament Director Jamie Warren said, "it is very humbling to see the continued growth of the Johnny Warren Memorial Cup and is testament to John, his contribution to the game and the high esteem in which he is still held by the football community".
The event has a real local flavour with Football South Coast, Jamberoo Football Club and Kiama Quarriers Football Club all pitching in to help deliver a tournament that Johnny Warren would be proud of. In addition, the state's peak football body, Football New South Wales are also strong supporters of the event.
Jamie Warren added, "if you're looking to see some great football, to catch up with old friends, to make some new ones or to reminisce about one of the true greats of Australian football, I encourage you to make the pilgrimage to Jamberoo, it will be well worth it".
The Men's Over 35 division kicks-off at Kevin Walsh Oval tonight at 8.30pm with last years' champions, the Boardaloo Rangers taking on the Maggies. Tonight's matches will be played until mid-night.
The Men's Over 45, Men's Over 50, Ladies Open and Ladies Over 30 divisions all commence on Saturday morning from 8am.
The full draw for the 21st Johnny Warren Memorial Cup Draw can be found at www.jwff.com.au.
Event Details
What: 21st Johnny Warren Memorial Cup
When: Friday and Saturday the 2nd and 3rd of February 2018
Where: Kevin Walsh and Keith Irvine Ovals, Churchill Street, Jamberoo, NSW.
Grand Final Times
Men's Over 35: 2.15pm
Men's Over 45: 2.45pm
Men's Over 50: 2.15pm
Ladies Open: 5.15pm
Ladies Over 30: 5.45pm